Photobooth-Software at its best
Not only our Photobooth systems are set up quickly and easily. The software leaves no wish unfulfilled and remains intuitive and understandable. Don`t buy a photobooth who only shots photos. With us, you always get a video booth, sharing Booth, greenscreen Booth and a GIF Booth. You won`t get satisfied with a standard Photobooth! Buy a fexon®-Photobooth!
The photos
With our cameras and the studio flash system, you create impressive good photos. Your customers will be delighted with the quality. The Photo Booth software gives you all the options to set the desired quality or pixel size.
The photobooth prints
Catch not at first to save on printer! A professional photobooth must deliver professional prints in seconds. No guest wants to wait 30 seconds or longer on his photo. With the printers used by us you have your photo after 10 seconds in hand and can handle it immediately. The software gives you the ability to customize the print layout to your liking. The possibilities are endless.
Instagram-Style
The Photo Booth software provides the option to set filters on the photos taken. You can set whether the guest can choose their own filters on the touch screen or is placed over each photo the same filter.
The Layouts
Let your imagination run wild and design the prints according to your needs. No matter if you want to have 1 or 4 photos on one print, with the integrated layout editor that is easy. Download logos and provided the images with an individual text. All this is already integrated and is working on the visual editor without any programming knowledge.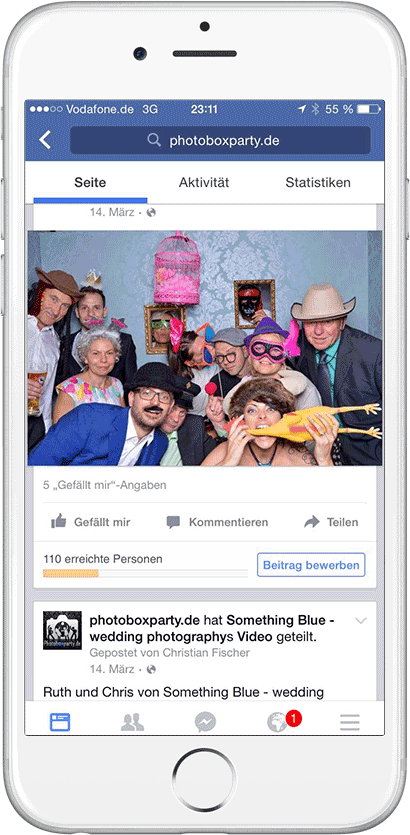 Social Media
Social media and "Sharing" is on everyone's lips these days. Of course, you should not have to compromise here. Our Photo Booth software offers you all the possibilities. You can activate each function in the software or not use, just as your customer requires.
Facebook-Wall
Let us share the photo on her Facebook wall users. You can pre-defined messages or embed hashtags to make along the way advertising.
Facebook-Fansite
Let all images automatically and load in the background on a predetermined Facebook Page (Gallery). This feature is ideal for competitions and the like.
Twitter
Users can share your photo on their Twitter account.
E-Mail
Each Photobooth photo can be immediately sent to the touchscreen via email. You can specify the subject line, the sender's address and of course also a text in the mail. The e-mail addresses are stored here and can then be read. An ideal feature for advertising and the like.
SMS
The photos taken can even be sent by SMS. For a fee Twillio account is required.
QR-Code
If desired, the software created for each image its own QR-Code with which the image can be displayed on any smartphone. You can specify whether the user only his own image, or any other can see.
Offline-Sharing
Even if times no Internet connection should be available there is the possibility to store all sharing offline and upload with available internet connection.
Greenscreen-Photobooth
With the integrated Green Screen mode, you can use any background image. Let guests choose between various designs or automatically insert a captured image. You can define your own Foreground even for each background. Thus, for example, various Hintergünde be provided with matching text.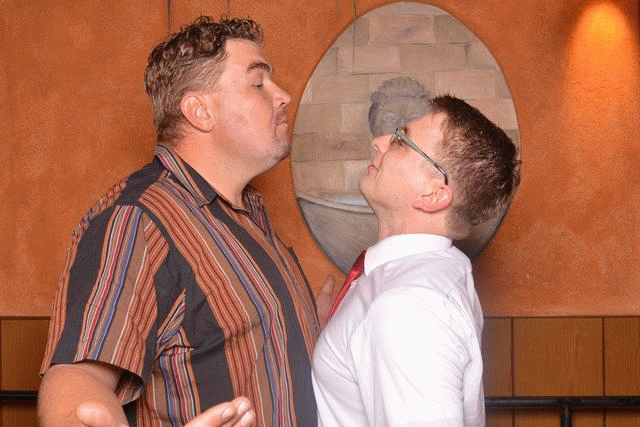 Animated GIFs
Bring your Photo Booth images to life! All image series are also available as a small animation. Combine this feature with logos or the Green Screen mode and tell little stories.